Welcome to Unity Lutheran Church of South San Francisco & Millbrae
We are a church that shares a living, daring confidence in God's grace.  Liberated by God's unconditional love shown through Christ, we embrace you as a whole person – questions, complexities and all.  We have them too.
Our aim is to create community that affirms, welcomes and supports everyone just the way they are in age, race, gender, sexual orientation, socioeconomic or family status,  physical or mental abilities.
Come add your perspectives and life experiences to the diversity of views as we gather to share each hope and dream, each challenge and concern, each joy and lament, building up the message of love, respect and authenticity for one another.

Sunday and Festival Name:
11th Sunday after Pentecost
Reflection or Question for the Week:
Ever been humbled by something unexpected?
Gospel Reading: Matthew 15: 10 – 28
Then Jesus called the crowd to him and said to them, "Listen and understand: it is not what goes into the mouth that defiles a person, but it is what comes out of the mouth that defiles."
Then the disciples approached and said to him, "Do you know that the Pharisees took offense when they heard what you said?"
Jesus answered, "Every plant that my heavenly Father has not planted will be uprooted. Let them alone; they are blind guides of the blind. And if one blind person guides another, both will fall into a pit."
But Peter said to him, "Explain this parable to us."
Then Jesus said, "Are you also still without understanding? Do you not see that whatever goes into the mouth enters the stomach, and goes out into the sewer? But what comes out of the mouth proceeds from the heart, and this is what defiles. For out of the heart come evil intentions, murder, adultery, fornication, theft, false witness, slander.
These are what defile a person, but to eat with unwashed hands does not defile."
Jesus left that place and went away to the district of Tyre and Sidon. Just then a Canaanite woman from that region came out and started shouting, "Have mercy on me, Lord, Son of David; my daughter is tormented by a demon."
But Jesus did not answer her at all. And his disciples came and urged him, saying, "Send her away, for she keeps shouting after us."
Jesus answered, "I was sent only to the lost sheep of the house of Israel." But she came and knelt before him, saying, "Lord, help me."
Jesus answered, "It is not fair to take the children's food and throw it to the dogs." She said, "Yes, Lord, yet even the dogs eat the crumbs that fall from their masters' table."
Then Jesus answered her, "Woman, great is your faith! Let it be done for you as you wish." And her daughter was healed instantly.
– New Revised Standard Version
Church Year at a Glance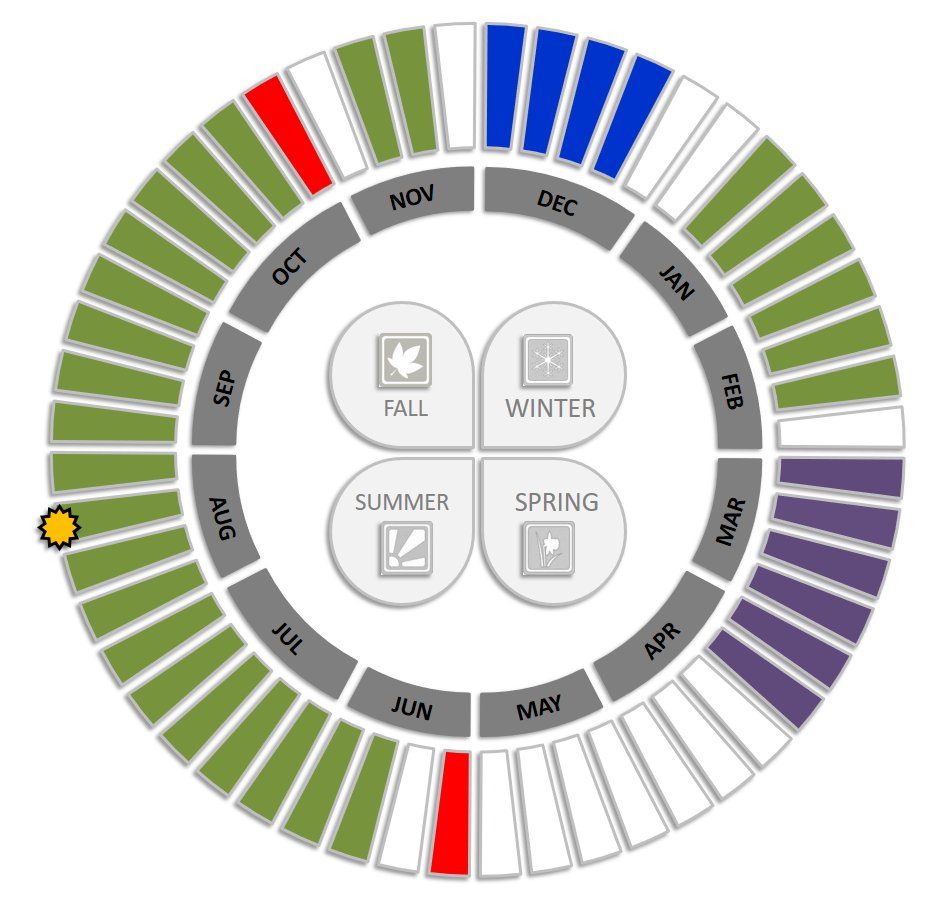 Click the image above to find out more about the seasons!